THE NEW NORMAL-Hiring Managers' WFH Toolkit
Posted 15th September 2020 • Written by People First • • • • •
A hiring manager's job is difficult at the best of times but a global pandemic, lockdown and furlough make it even more challenging. Many of our clients have shown ingenuity and adaptability during these difficult times and we thought we would share some top tips with you.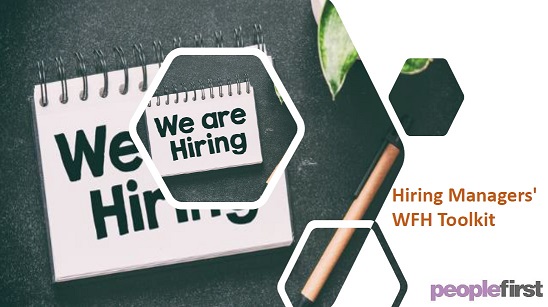 We've created a Hiring Managers' WFH Toolkit which includes:


The candidate experience: advice on how to engage with candidates and give them a feel for your organisation, even when you are working from your kitchen! It will be a virtual candidate experience to remember and will set you apart from your competitors.
Virtual interviewing: Many hirers were already no stranger to telephone interviews and now the plethora of virtual meeting apps make (digital) face-to-face interviews much more accessible and are time effective for all parties. Read our link about how to get the most out of this experience. We predict that this will become a standard part of the interview process, even once lockdown restrictions have been lifted.
Business webinars: We have included links to The SME COVID-19 Webinar Series - a valuable resource of information on government grants, resolving HR and employee issues during the crisis, business development and social media marketing opportunities, etc.
Upskilling: ideas on how your employees, colleagues (and you!) can make the most of this time away from the office to learn a new skill or improve current business skills .
Time for you: These are stressful times and everyone is working extra hard to adapt to the new challenges we face. Our final slide has a number of ideas to help you unwind and focus on external interests – whatever they are.
We hope you find this toolkit useful and please let us know if we can help in any other way. For us, it's business as usual and we are still placing candidates with our clients – even if it's all, including first-day onboarding, done remotely! Please let us know how WFH is affecting you and your business and how we can help. We would love to talk, so please give us a ring on 020 7796 3636 or drop us an email.
Stay safe and healthy!