Mandarin Chinese speaking Credit Analyst, Corporate Banking
Up to £55k (Depending on experience)
Permanent
Central London
Ref: 19617
Please follow us on WeChat: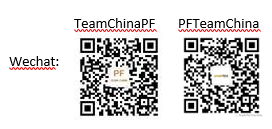 Job Title: Mandarin Chinese speaking Credit Analyst, Corporate Banking
The Skills You Need: Fluent Mandarin, must have Credit Analyst experience
Salary: Up to £55k (Depending on experience).
Location: London
Status: Permanent
Your Key Responsibilities:
To assist in Relationship Support work including the preparation of credit applications and credit ratings for Corporate Banking Department.
To prepare the client annual review reports.
To assist in collecting information for new clients in the KYC/KYB stage.
To assist, monitor and review facilities and loans after drawdown including the maintenance of efficient diary procedures to monitor covenant checks, timely reviews, waivers, Compliance and legal issues.
To attend meetings and undertake follow up work including writing call reports.
To monitor the credit portfolio on a continuing basis for changes in credit quality due to counterparty specific and general market related issues; recommending suitable actions
To maintain a keen interest and awareness of market trends in FI business including key trends and events in the UK and international credit markets
To monitor adherence to approved credit limits and to ensure that Head of Financial Institutions is informed of all material excesses on the same working day as identified.
To assist with the review and development of credit risk related policies and procedures.
The Skills and Experience You Need:
Strong experience as a Credit Analyst
Educated to degree and/or appropriate professional qualification level.
Strong experience in credit analysis in various industries for amounts above $5m
Strong understanding of financial aspects of loan markets
Good understanding of banking products.
Experience in service orientated and customer focused role in financial services sector.
Experience in cash flow modelling would be an advantage.
Sound and proven analytical, credit and risk skills.
Proactive, self-motivated and well-organized; Good communication skills; Strong work ethic and team spirit.
Proficient user of MS Office (Excel, PowerPoint and Word).
Fluent (both written and verbal) in both English and Mandarin.
Please follow us on Linkedin: https://www.linkedin.com/company/people-first-team-china
We would be grateful if you could send your CV as a Word document. If your application is successful, you will be contacted within 7 days. We regret that due to the high volume of applications we receive we cannot provide feedback on individual CVs. Please note that we can only consider candidates who are eligible to work in the UK and are able to provide relevant supporting documentation.
People First (Recruitment) Limited acts as an employment agency for permanent and fixed term contract recruitment and as an employment business for the supply of temporary workers. Please note that by applying for this job you accept our Terms of Use and Privacy Policy which can be found on our website.
People First Recruitment Agency - Mandarin jobs, Japanese language jobs, Chinese speaking jobs, European and Cantonese vacancies, Supply Chain jobs - in London, Surrey, Kent, Sussex, Berkshire and all of the UK
People First Recruitment Agency - more than 20 years of success in Mandarin recruitment, Supply Chain recruitment, Japanese language recruitment, European and Chinese language recruitment
- in London, Surrey, Kent, Sussex, Berkshire and all of the UK
apply for this job