Mandarin Chinese and French speaking Account Manager (Paris)
€50,000 - €100,000 depending on experience + commission + bonus + benefits
Permanent
Outside UK
Ref: 19988
To see more Mandarin/Cantonese vacancies please follow us on WeChat: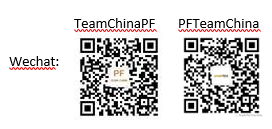 Your New Job Title: Mandarin Chinese and French speaking Account Manager (Paris)
Your New Salary: €50,000 - €100,000 depending on experience + commission + bonus + benefits
Job status: Permanent
Location: Paris, France
What You'll be Doing Each Day:
Identifying and developing new account to help the business to gain greater market share;
Analysing our products, services, pricing and customers' reactions to our product, service and price etc.;
Accomplishing sales and margin target by selling IT products and services such as IPLC, MPLS VPN, IP Transit, data centre and IT integrated solutions etc. in the region assigned within Europe and Africa;
Working closely with other internal senior staffs and external parties to organise various components needed to initiate, run and conclude sales projects by following sales policies, practices and procedures;
Developing and constructing good resources for providing services and products for our company;
Analysing sales figures, undertakes market research, prepares proposals for marketing campaigns and promotional activities;
Building and maintaining effective good relationships and a high level of satisfaction with direct decision makers of clients;
Involving in the development of new products and services for satisfying demand from clients, keeping up to date products and high standard level of services;
Be responsible for all relevant issues within the Account Manager Function as a generalist or in a combination of Disciplines;
Proposing working process for approaching clients and selling services of our company;
Fulfilling all working targets set by your line manager and weekly report to your line manager.
The Skills You'll Need to Succeed:
Fluent Mandarin and French in reading and speaking;
Strong sales experience and project management skill, ideally focusing on enterprise business within IT and telecom fields;
Knowledge of IT and telecom products and services;
Previous working experience in sales comprehensive telecommunications or IT services;
Excellent communication and people skills.
Please follow us on Linkedin: https://www.linkedin.com/company/people-first-team-china
We would be grateful if you could send your CV as a Word document. If your application is successful, you will be contacted within 7 days. We regret that due to the high volume of applications we receive we cannot provide feedback on individual CVs. Please note that we can only consider candidates who are eligible to work in the UK and are able to provide relevant supporting documentation.
People First (Recruitment) Limited acts as an employment agency for permanent and fixed term contract recruitment and as an employment business for the supply of temporary workers. Please note that by applying for this job you accept our Terms of Use and Privacy Policy which can be found on our website.
apply for this job