Mandarin / Cantonese Chinese speaking Relationship Manager (Corporate Banking)
£60-80k depending on experience + banking benefits
Permanent
Central London
Ref: 19972
To see more Mandarin/Cantonese vacancies please follow us on WeChat: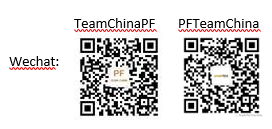 Your New Job Title: Mandarin / Cantonese Chinese speaking Relationship Manager (Corporate Banking)
The Skills You'll Need: Fluent English, plus good banking relationship manager experience
Your New Salary: £60-80k depending on experience + banking benefits
Location: Central London
Job status: Permanent
Summary:
This is a front office role, to develop a UK client list and support the Head of UK & European business in developing major UK client relationships through active marketing both direct and through the London syndication marketplace. The role will also involve the completion of credit risk assessments and for undertaking the credit and risk monitoring of their portfolio of local Corporate Clients.
What You'll be Doing Each Day:
Marketing
To develop new corporate client relationships in the UK market.
To work with and support head of department and other staff of the team in the acquisition of new business.
To prepare annual/interim reviews and be responsible for managing and monitoring the existing portfolio of local clients, ensuring all reporting deadlines are met and the compliance certificates are received.
Keep abreast and up to date on issues affecting the client and corporate banking, such as legal, market risk and compliance.
Communicate with the team, customers and present transactions to senior management
Credit Analysis
Preparation of credit proposal to be submitted to Bank's Credit Committee inclusive of complete analysis in connection with new and existing transactions related to companies of the corporate portfolio and also for potential new counterparties and customers.
Complete Analysis includes, but is not limited to, detailed and in-depth review of corporate historical economic operating results and financial position through the analysis of P&L, Balance Sheet, Cash Flow statement and full set of ratios analysis.
Assign or update credit ratings.
Assess and comment on facility documentation.
Reviewing all waiver requests and financial reporting information.
Update the department policy and procedure with authorised changes and to recommend amendments where necessary
Complying with ABCLB policies and procedures.
Credit document filing.
The Skills You'll Need to Succeed:
University graduate in economics, business administration or related disciplines.
Comprehensive written and verbal communication skills in English. Mandarin is not essential but would be an advantage.
Excellent hands on experience in syndicated lending business.
Credit experience, documentation experience in proposing and negotiating both internally and externally credit and covenant structures and loan documentation.
Competency in financial analysis and credit structuring, understanding and applying credit policy, and credit monitoring and risk administration practices.
Proficient with MS Word and Excel
Deep understanding of general banking law and regulation, deposit, loan and other financial products.
Good knowledge of UK banking practice and relevant regulation.
Please follow us on Linkedin: https://www.linkedin.com/company/people-first-team-china
We would be grateful if you could send your CV as a Word document. If your application is successful, you will be contacted within 7 days. We regret that due to the high volume of applications we receive we cannot provide feedback on individual CVs. Please note that we can only consider candidates who are eligible to work in the UK and are able to provide relevant supporting documentation.
People First (Recruitment) Limited acts as an employment agency for permanent and fixed term contract recruitment and as an employment business for the supply of temporary workers. Please note that by applying for this job you accept our Terms of Use and Privacy Policy which can be found on our website.
apply for this job