UK Country Sales
to £30k plus commission
Permanent
Greater London
Ref: 19799
Please follow us on WeChat: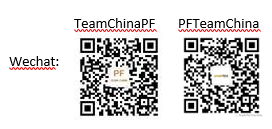 Your New Job Title: UK Country Sales(understanding of Chinese language or Chinese culture)
岗位名称:英国大区销售
The Skills You'll Need:
general sales, Chinese language or culture understanding, driving license preferred, flexibility to travel overseas
岗位要求:销售经验,中文语言能力或者理解中国文化,有驾照者优先考虑,需要海外出差(西欧)
Your New Salary: £25k to £30k plus commission
岗位薪资:£25k to £30k 加提成
Location: West London
岗位地点:西伦敦
Who You'll Be Working for:
A well-established Chinese company's overseas branch
What You'll be Doing Each Day:
Responsible for exploring and developing UK/European customers' businesses
Pipeline management. Build up regional key customers for the relevant business sector
Consolidate and analyse the local and European market business needs/requirements and competitors' status
Responsible for strategic customer development and key projects/businesses regional lead
The Skills You'll Need to Succeed:
Some business development experience in general sales is preferred but not compulsory
Excellent communication skills and easy-going personality, care for details.
English fluent to native level, Chinese language would be a bonus
Teamwork, positive attitude at work.
Able to work under pressure and meet tight deadlines.
Willing to travel when necessary, based in the UK, regular trips and extended stays in all European countries.
Job status: permanent
Start date: ASAP
To view all our vacancies please go to www.people-first.co.uk/team-china
Please follow us on Linkedin www.linkedin.com/company/people-first-team-china
We would be grateful if you could send your CV as a Word document. If your application is successful, you will be contacted within 7 days. We regret that due to the high volume of applications we receive we cannot provide feedback on individual CVs. Please note that we can only consider candidates who are eligible to work in the UK and are able to provide relevant supporting documentation.
People First (Recruitment) Limited acts as an employment agency for permanent and fixed term contract recruitment and as an employment business for the supply of temporary workers. Please note that by applying for this job you accept our Terms of Use and Privacy Policy which can be found on our website.
apply for this job