Mandarin speaking Job-Business Development Manager-M&A-London
to £70k
Permanent
Greater London
Ref: 19641
Please follow us on WeChat to see all our Cantonese and Mandarin jobs, interview tips and London news: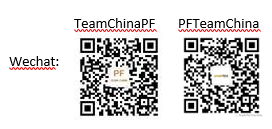 Your New Mandarin Job Title:
Mandarin Chinese spkg Business Development Manager - M&A-London

The Skills You'll Need: Relevant working experience required in investment, M&A or similar; ideally in the energy sector

Your New Salary: to £70k

Location: London

Who You'll Be Working for:
An expanding company in the energy sector

What You'll be Doing Each Day:
Establish and maintain relationships with investors in renewable energy;
Monitor the business environment, especially in energy investment sector, analyse and assess the market trends;
Based on the project development needs of the company, target and meet the potential investors for the project;
Perform financial structure design, financial analysis, risk identification and any other process of the investment projects;
Perform in the development of Funds model and be involved in all stages of Fund management, including set up, model design, financing, operating and capital withdrawal;
Coordinate with external investors to manage due diligence process and document preparation, participate in negotiation at all stages of the investment project cycle until the close of investment withdrawal;
Other assignments required by the supervisor.
The Skills You'll Need to Succeed:
Bachelor's degree or above;
Relevant working experience required in investment, M&A or similar;
A strong network with financial institutions in the domain of investment, M&A;
A strong understanding of M&A construction and deal making processes in energy investment sector;
Knowledge of the energy sector will be an asset;
Excellent communication and interpersonal skills; ability to conduct the assignment independently;
Skill in perform in-depth industry research and good in absorb knowledge of new area;
Knowledge of financial markets;
Fluent in English, Mandarin will be a bonus;
Team oriented, strong will and skill to interact with internal departments;
Willing to travel around Europe
Job status: Permanent
Start date: ASAP
Working hours: TBC
Please follow us on Linkedin: https://www.linkedin.com/company/people-first-team-china
We would be grateful if you could send your CV as a Word document. If your application is successful, you will be contacted within 7 days. We regret that due to the high volume of applications we receive we cannot provide feedback on individual CVs. Please note that we can only consider candidates who are eligible to work in the UK and are able to provide relevant supporting documentation.
People First (Recruitment) Limited acts as an employment agency for permanent and fixed term contract recruitment and as an employment business for the supply of temporary workers. Please note that by applying for this job you accept our Terms of Use and Privacy Policy which can be found on our website.
apply for this job