Legal Counsel (Mandarin Chinese preferred)
£Highly competitive depending on experience, plus good benefits
Permanent
Central London
Ref: 19616
Please follow us on WeChat: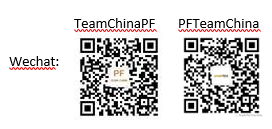 Your New Job Title: Legal Counsel (Mandarin Chinese preferred)
Your New Salary: Highly competitive depending on experience, plus good benefits
Job status: This is eventually a permanent position but you will start as 6 months fix-term contract due to company policy. You would be able to go permanent depending on satisfactory performance
Location: Central London
Report to: Principal Counsel

What You'll be Doing Each Day:

·Providing legal support to management and business units regarding applicable laws and regulations and participate in new business process with the business and risk areas
·Developing and maintaining a strong awareness in legal within the organization by updating line managers and employees on legal related matters
·Monitoring business activities and implementing specific measurements as necessary.
·Handling multiple projects simultaneously with careful legal analysis and attention to detail and within deadlines
·Negotiating, drafting and reviewing of all day-to-day contracts in global environment and ensure compliance with the relevant authorities
·Exercising sound business and legal judgment and demonstrate the highest degree of professionalism in dealing with clients and colleagues
·Working closely with the Compliance department

The Skills You'll Need to Succeed:

·An understanding of legal and regulatory matters pertaining to financial services generally
·General broad understanding of financial products and brokerage, including cash equities brokerage
·Familiar with relevant financial services rules and regulations
·A professional with high integrity
·A self-starter, independent and able to take the initiative
·Strong analytical and evaluative skills
·Attentive to detail
·Good working attitude, team player and able to work well under pressure
·Excellent interpersonal skills with fluency in written and spoken English
·Mandarin Chinese language abilities preferred but not essential

Qualifications:

·Lawyer admitted to practice in the UK with relevant PQE
·Ideally obtained within a financial services advisory role within a top tier law firm
Please follow us on Linkedin: https://www.linkedin.com/company/people-first-team-china
We would be grateful if you could send your CV as a Word document. If your application is successful, you will be contacted within 7 days. We regret that due to the high volume of applications we receive we cannot provide feedback on individual CVs. Please note that we can only consider candidates who are eligible to work in the UK and are able to provide relevant supporting documentation.
People First (Recruitment) Limited acts as an employment agency for permanent and fixed term contract recruitment and as an employment business for the supply of temporary workers. Please note that by applying for this job you accept our Terms of Use and Privacy Policy which can be found on our website.
apply for this job